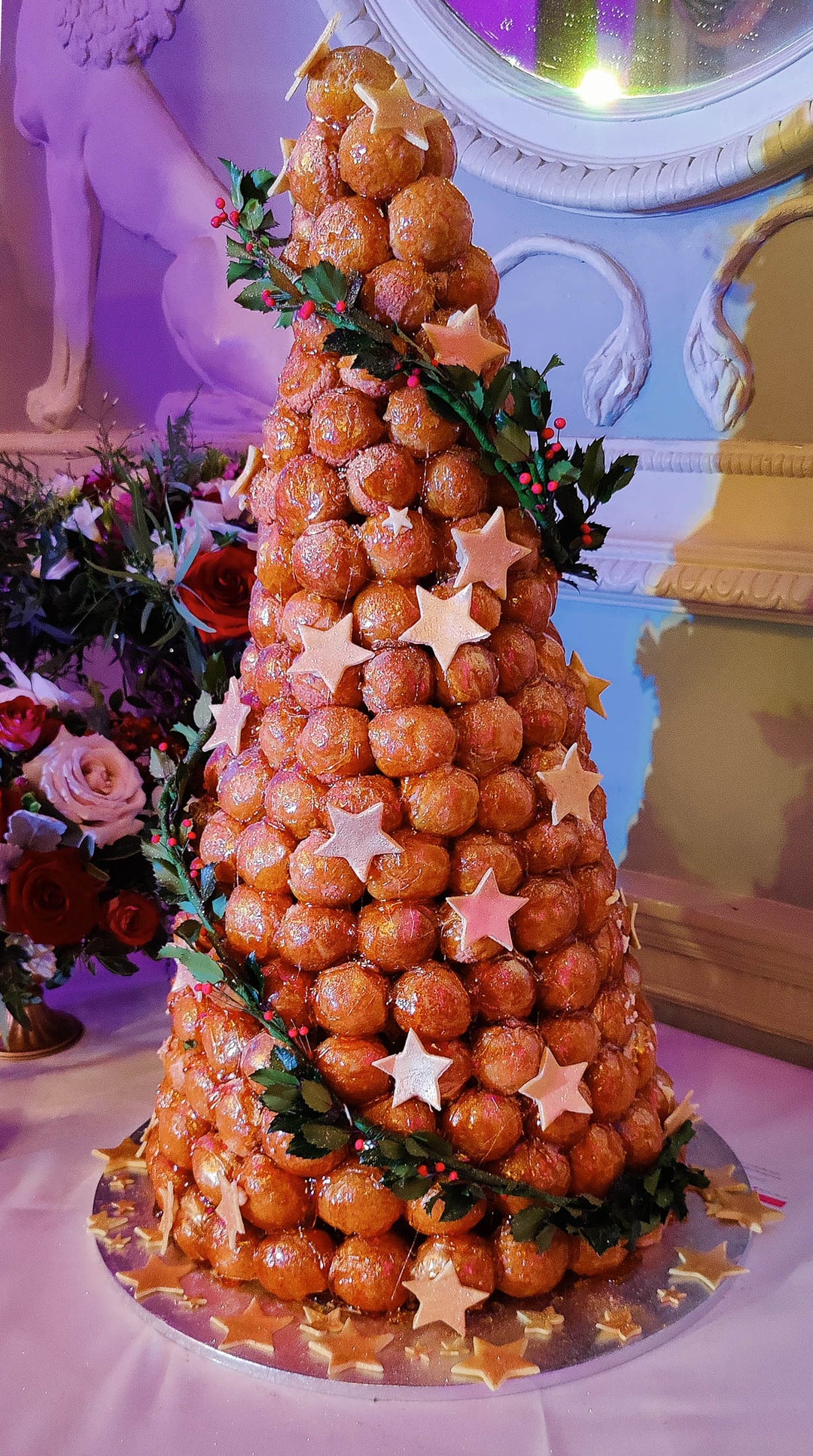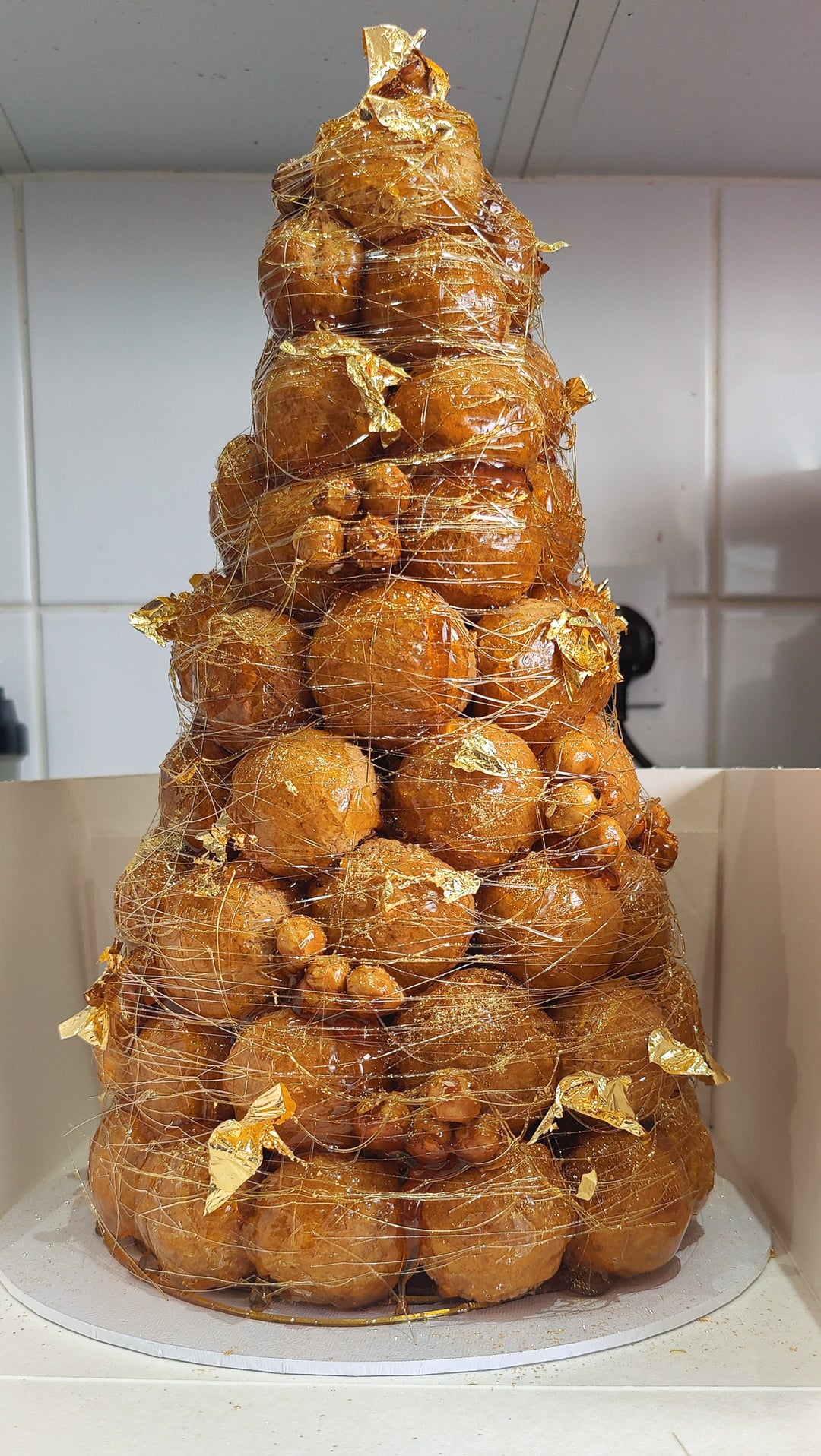 Regular price
£170.00
/
Tax included.
Shipping
calculated at checkout.
---
A spectacular classic in a choice of four magnificent, tried and tested, flavours. If you are looking for a showstopper element for your celebration, look no further. Not only is it breathtaking in the looks department, it's fun and the taste is even better! Dare we say unforgettable...
All the Croquembouches are finished in edible gold glitter to look extra spectacular.
Serving guide:
 Servings are calculated on a 4 choux bun size serving for a full dessert serving, or a two choux bun size serving for a wedding style celebration. For example the small Croquembouche serves 15 x 4 choux buns or 30 x 2 choux bun servings. 
Important notice: The Croquembouche is a very delicate and fragile dessert construction. We always make it on the day, just before we deliver it to you. It will hold it's shape for at least 6 hours before the caramel starts to melt. 
We STRONGLY advice that you order your Croquembouche for the day you need it and NOT in advance.
We will produce it as close to your celebration time as possible. 
This is a hand made artisan product therefore the amount of choux buns may vary. It will always have the minimum amount mentioned on the website.
Available Flavours: 
Vanilla crème patissière 
Choux buns filled with our smooth and sleek vanilla crème patissière. Flavoured with vanilla seeds from real Madagascan vanilla pods.
Pistachio crème patissière
Our delicious vanilla crème patissière enriched with Sicilian pistachio paste creating a moreish rich filling.
Raspberry and Champagne Eton Mess
A festive combination of our very own extra fruity raspberry jam, Champagne and white chocolate cream, fresh raspberries and crispy meringue kisses. Do we need to say more?
Passion Fruit, Honey, Praline
A combination we are in love with, the praline honey combination creates a sticky and fully balanced sweet ganache and the passion fruit curd cuts through with its aromas and sharpness. Crunchy hazelnut praline gives the extra bite to this memorable combination.
Croquant Praliné
A classic crunchy praliné combination with a smooth nutty cream and a crunchy hazelnut centre, decorated caramelised hazelnuts and almond nougatine. 
Size Guide:
Small: Contains minimum 60 Choux buns. Sits on a 12" cake drum, approximately 40cm tall.
Medium: Contains minimum 110 Choux buns. Sits on a 14" cake drum, approximately 55cm tall.
Large:
Contains minimum 170 Choux buns. Sits on a 18" cake drum, approximately 75cm tall.
Extravaganza: Contains minimum 240 Choux buns. Sits on a 18" cake drum, approximately 100cm tall.
Epic: Contains minimum 450 Choux buns. Sits on a 20" cake drum, approximately 120cm tall.
We deliver in selected locations across London.
Allergens: Gluten (Wheat), Dairy, Eggs, Soya
Praline and Pistachio flavours contain: Nuts
This cake cannot be made Vegan. 
Large items require special delivery arrangements and subsequently fees, please contact us directly.

We constantly review our pricing and fees and the busier we get the more we'll able to absorb more of these fees.
We currently offer delivery to the following areas priced according to distance.
Contact us directly if you cannot find your postcode on this list, as we would love to accommodate you anyway we can.
If you need a cake now from our in store selection or would prefer to arrange your own delivery via Uber or Addison Lee, please let us know of the car license plate and estimated arrival time, we will ensure to pass your cake/treats to the driver and also advice on how to place in the car safely.